Previously, we already had the chance to talk about the 10 Most Expensive Paintings Ever Sold as well as the Most Expensive Cities To Live In, yours truly did a little research to find out what are the most expensive chocolates in the world. I hope this also interests you as much as it does me…
Everybody (at least almost) loves chocolate they say, and boy I couldn't agree more. I, for one, prefer a chocolate bar over any other sweets like candy, cakes or ice creams. Did you know though, that people who describe chocolates a food for the gods aren't actually wrong? The Latin name Theobroma for cacao tree (where cocoa then eventually chocolates came from), literally means food for the gods. The thing is, some of these heavenly treats can also cost like only gods can afford them…
Priced at $270 per box, the House of Grauer's Aficionado's Collection Chocolates is said to be made to look and even smell like a fine authentic Cuban cigar. The House of Grauer even offers a "petite" box or a sampler for those who are unsure but would like to try a cigar and chocolate fusion.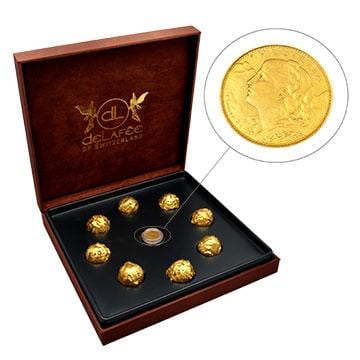 At 390 CHF or $397 USD for a box of 8 pieces chocolate coated in 24K edible gold, the Delafee Gold Chocolate Box is one of the most expensive chocolates in the world. The box includes a collectible swiss gold coin.
8. Noka Vintages Collection
Noka Chocolates is an American based but Canadian owned company. At $854 per pound, Forbes magazine has tagged the Noka Vintage Collection as one of the most expensive chocolates in the world.
7. Brownie Extraordinaire
Offered at the Brulee dessert restaurant, this dark chocolate brownie is served with a rare port wine in a vintage looking atomizer as it's container. What's really omg-worthy about it is the $1,000 price tag.
6. Wispa Gold Wrapped Chocolate
This golden caramel filled chocolate bar is made by the most known household name for chocolates: Cadbury. The Wispa Gold limited edition was sold (as the image shows) for 961.48 British Pounds or 1280.28 US Dollar.
5. La Madeline au Truffe
A rare Perigord Truffle encased in a rich chocolate ganache. Costs $250 a piece which makes a pound worth $2600.
4. Swarovski Studded Chocolate
Produced exclusively by the high-end department store Harrods in collaboration with the Lebanese chocolatier Patchi. This chocolate t studded with Swarovski crystals is a real treat indeed. Priced at $10,000, no one would say otherwise.
3. The Golden Speckled Egg
Sold for more than $10,000, the Golden Speckled Egg is the world's most expensive chocolate egg and the biggest easter chocolate egg.
2. Frozen Haute Chocolate
The Frozen Haute Chocolate from the New York restaurant Serendipity 3 is sold for a shocking price of $25,000 which made it the most expensive dessert in the world according to the Guinness Book of Records. It is served in a Gold and diamond adorned goblet with a 23K gold spoon (both can be taken home).
1. Le Chocolat Box by Simon Jewelers
Unfortunately, the real most expensive chocolate in the world costing 1 million US dollars was priced not because of the heavenly taste or the rarity of the cacao used but because of how it was packaged. It comes with gold diamonds and other treasured gems.